Collections
Each collection in the Perceptive Arts series has its own energy and meaning. Read the poems associated with each piece to gain a glimpse into an Artist's interpretation of his own work. Perceptive Arts is designed to express the subjective nature of perception and interpretation. The art will show you visions of your own reflection and projection.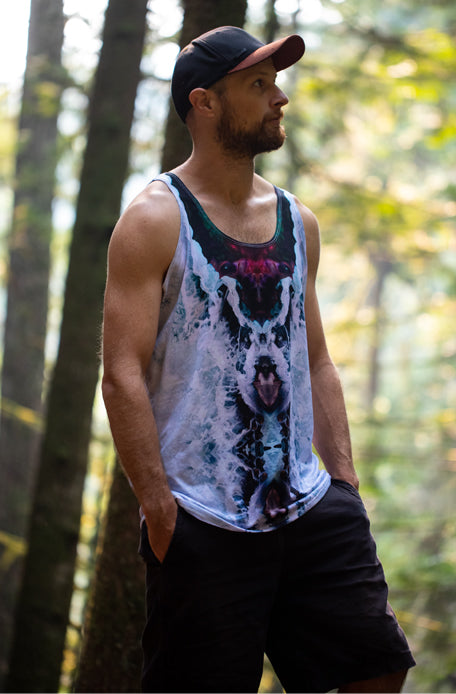 Perceptive Artist
Jason Stephens is a New Zealand born Canadian Artist & Designer. After 10 years experience in the field of Software User Experience Design Jason is beginning the gradual release of his Perceptive Art project.
-
Jason's vision is to use Perceptive Arts as a platform in expressing his Wall Art, Wearable Art, Athletic Flow Art & Philosophical Poetic Art. These are the four pillars of Perceptive Arts.
-
Jason finds inspiration in his experience in UX Design, Eastern Philosophy studies, Martial Arts and Extreme Flow State Sports to name just a few.
-
Keep an eye on this space as there are many unique and creative things on the way!
Perceptive Poetry
Each of these poems is inspired by their coresponding piece of wall art. Use the poems to help inspire your interpretation of the Perceptive Art works.
Solar Soul

Perceptive Arts brings you Solar Soul. It's the eyes of the shadows that spread fear while the solar spirits wait near. Only through the shadows will peace become clear and your pain disappear. For the shadows are not in your way… They are your way.

Solar Soul

Inner Intuition

Perceptive Arts brings you Inner Intuition, a composition of knowing and unknowing. Being and perceiving from a space of emptiness invites one to fulfill an intuitive awareness. Only then do the thought constructed layers of complexity begin to define one's inner identity.

Inner Intuition

Dusty Diamond Haze

Perceptive Arts brings you Dusty Diamond Haze. It's the softer patterns and the subtler forms that present themselves through these spiral storms. They are spirits of the forge, overseeing the materialization of a centralized source of information. Complexity obscures but with patience their secrets will be yours.

Dusty Diamond haze
Perceptive Road Map

Phase 01 - Introduction to Perceptive Arts

--------- Step 01 - Release Website

--------- Step 02 - Release the first series of Wall Art

--------- Step 03 - Release the first series of Wearable Art

--------- Step 04 - Release first series of Poetic Art

--------- Step 05 - Start Social Media Presence
Phase 02 - Photography and Film

--------- Step 01 - Product videos & Reels

--------- Step 02 - Poetry videos & Talks

--------- Step 03 - Sponsor Athletic Flow Artists and edit video reels

--------- Step 04 - Art gallery showings
Phase 03 - Next release of Art & Poetry

--------- Step 01 - Next series of Perceptive Poetry

--------- Step 02 - Next series of Perceptive Wall Art

--------- Step 03 - Next series of Perceptive Wearable Art

--------- Step 04 - Mint Perceptive's first NFTs on Cardano
Phase 04 - Perceptive Philosophy & Podcast

--------- Step 01 - Quantifying the Perceptive message and meaning

--------- Step 02 - A focus on interconnectivity and oneness

--------- Step 03 - Lessons of Breath and Flow

--------- Step 04 - Lessons of Balance and Alignment

--------- Step 05 - Lessons of Mindfulness and Meditation

--------- Step 04 - Lessons of Self Healing and Connection
Phase 05 - Perceptive Performing Arts, Flow & Installation Festival

--------- Step 01 - Creative Sculpture and Installation with experiential journeying

--------- Step 02 - Workshops in Flow, Balance, Philosophy and Mindfulness

--------- Step 03 - Creative Community in Perceptive Arts
Phase 06 - A Journey of Inspiration

--------- Step 01 - Ask the right questions

--------- Step 02 - Explore the Experience of Time

--------- Step 03 - Explore the Experience of Space

--------- Step 04 - Let go and be Free